Product
BPE Fittings Valves, BPE Pipe Line inp wafer , ASME BPE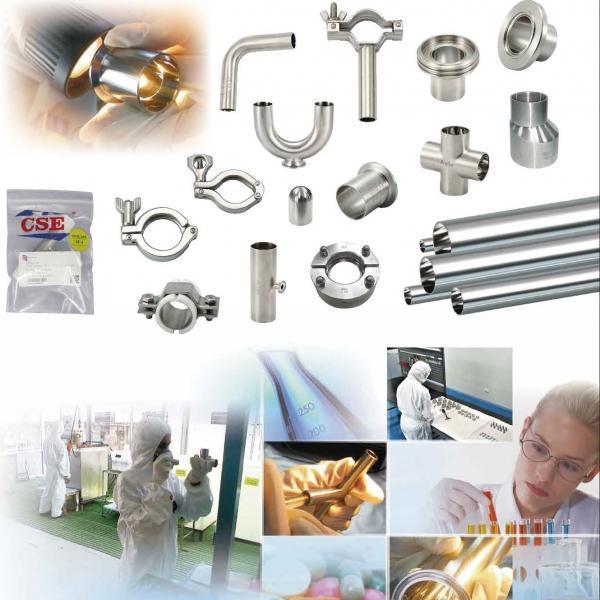 ASME BPE FITTINGS
Product ID: P80 ASME BPE FITTINGS
BPE Standard Pipe Line: ASME BPE A269/A270 Elbow, Tee, Reducing Tee, Cross, Reducer.
Elbow System: 45 deg short elbow clamp ends, 45 deg long elbow; 90 deg short elbow clamp ends; 90 deg long elbow.
Tee System: Equal Tee Long; Reducing Tee Long or short outlet clamp ends and Equal Cross long.
Reducers System: Concentric Reducer/ Eccentric REducer with long straight end welding end or without straight end clamp ends.
BPE Instrument Tee system: DT28/ DT29 Instrument Tee with clamp or weld end or body only with straight end.
All of Elbow, Tee and Reducing Tee that you can choose Weld end or Clamp end.
The materials are offered for Biochemical, pharmaceutical, chemical and in case of food machine equipment. The chemcial position of Sulphur is between 0.005 ~ 0.017 according to BPE standard ASME BPE-2007.
BPE fitting grade: SF1, SF2 with Mechanical polishing, SF4, SF5 will be processing with ID EP finished.
The MTR's will be attached with producing which shipping or sent to customer by courier after shipment leaving.
The serious of BPE products that CSE offers are machined by solid bar or forged. And we can offer Tee, Elbow, Reducer, Cross as the part numbers DT-7, DT-8, DT-9, DT-10, DT-11, DT-12, DT-13, DT-14, DT-15, DT-16, DT-17, DT-18, DT-19, DT-20, DT-21, DT-22, DT-25, DT-27, DT-28, DT-29. The serious of BPE products could be conformed with BPE-16AMP Blank End Cap which is made by solid bar, BPE-Clamp and Seals of 13PG, 13FG as well as other Adapters like BPE-14MPHR, BPE-21MP, BPE-22MP or BPE-14AWF Welding long Ferrules.
ASME BPE 2020 , DT-4.1.1-1, DT-4.1.1-4, DT-4.1.2-1, DT-4.1.2-1C, DT-4.1.2.-1, DT-4.1.3-1, DT-4.1.3-1E, DT-4.1.1-2, DT-4.1.1-5, DT-4.1.1-3, DT-4.1.1-6, DT-4.1.2-6, DT-4.1.2-7, DT-4.1.2-2, DT-4.1.2-4T, DT-4.1.2-4C, DT-4.1.2-8, DT-4.1.2-9, DT-4.1.3-3, DT-4.1.3-3E, DT-4.1.4-1, DT-4.1.1-7, DT-4.1.1-8, DT-4.1.2-3, DT-4.1.2-5, DT-4.1.3-2A, DT-4.1.3-2A, DT-4.1.2-10, DT-4.1.2-11, DT-4.1.5-1, DT-4.1.5-2
Specifications:
Material grade:
Size Range:

1/2", 3/4", 1", 1.5", 2", 2.5", 3", 4"

Specification:
Features:
DT-4.1.5-2
DT-4.1.2-10
DT-4.1.2-11
DT-4.1.2-1C
DT-4.1.2-1T
DT-4.1.2-2
DT-4.1.2-3
DT-4.1.2-4C
DT-4.1.2-4T
DT-4.1.2-5
DT-4.1.2-6
DT-4.1.2-7
DT-4.1.2-8
DT-4.1.2-9
DT-4.1.3-1AC
DT-4.1.3-1AE
DT-4.1.3-2AC
DT-4.1.3-2AE
DT-4.1.3-3AC
DT-4.1.3-3AE
DT-4.1.4-1
DT-4.1.5-1
See more complete detail
Order Information:
Minimum Order: Negotiable
FOB: Keelung